IWCA II Gallery
The 2nd International Workshop on Cometary Astronomy (IWCA II) was held from August 14 - 16, 1999, in Cambridge/England. A summary of the meeting by the host, Jonathan Shanklin, can be found here.
Martin Mobberleys image gallery.
Click on the image for a larger version.
Two group images by Bernd Brinkmann (bernd.brinkmann@fh-bochum.de). © 1999 by B. Brinkmann.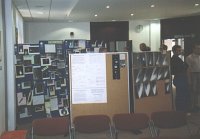 Some of the posters.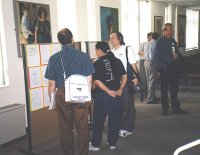 Carmelita Miranda, Charles Morris and Andrew Pearce.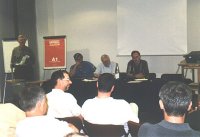 Panel discussion with Bill Liller, Alan Hale, Brian Marsden and Doug Biesecker.
A bet is redeemed. Charles Morris, Alan Hale.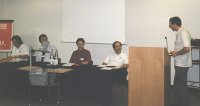 Another panel discussion with Charles Morris, Guy Hurst, Andreas Kammerer, Dan Green and Jonathan Shanklin.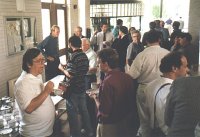 Tea Time!
Don Machholz, Kazimieras Cernis and Kesao Takamizawa.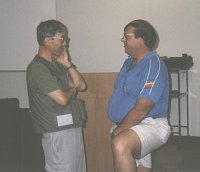 Kesao Takamizawa and Alan Hale.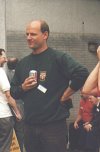 Michael Jäger.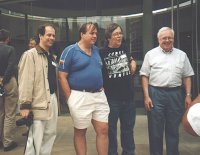 Dan Green, Alan Hale, Charles Morris and Brian Marsden.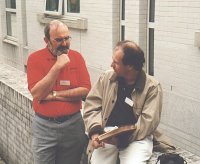 David Seargent and Dan Green.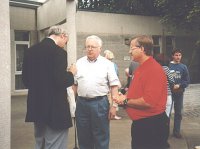 Martin Mobberley, Brian Marsden and Patrick Stonehouse
All attending comet discoverers: David Seargent, Don Machholz, Patrick Stonehouse, Keith Tritton, Alan Hale, Doug Biesecker, George Alcock, Bill Liller, Michael Jäger, Kesao Takamizawa and Kazimieras Cernis.
German/Austrian attendees (except the author): Andreas Kammerer, Werner Hasubick, Sebastian Hönig, Michael Jäger and Bernd Brinkmann.
At a local pub: Werner Hasubick, Andreas Kammerer, Michael Jäger, Sebastian Hönig and Jean-Claude Merlin.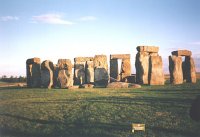 Stonehenge in the evening sun.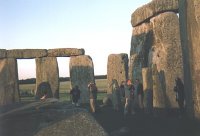 Photo shooting at Stonehenge.
---